(Day 6)
If you are staying at either the Beach Club or the Yacht Club, I would highly recommend breakfast at Cape May Cafe. This is a character meal, served buffet style, and the only character meal this restaurant offers. It is not open for lunch. Dinner here, while also buffet, does not have characters. The breakfast buffet consisted of a fairly wide selection of food items, similar to Chef Mickey's.
This meal is technically called Minnie's Beach Bash Breakfast, starring Minnie, Goofy and Donald all dressed in beachy attire.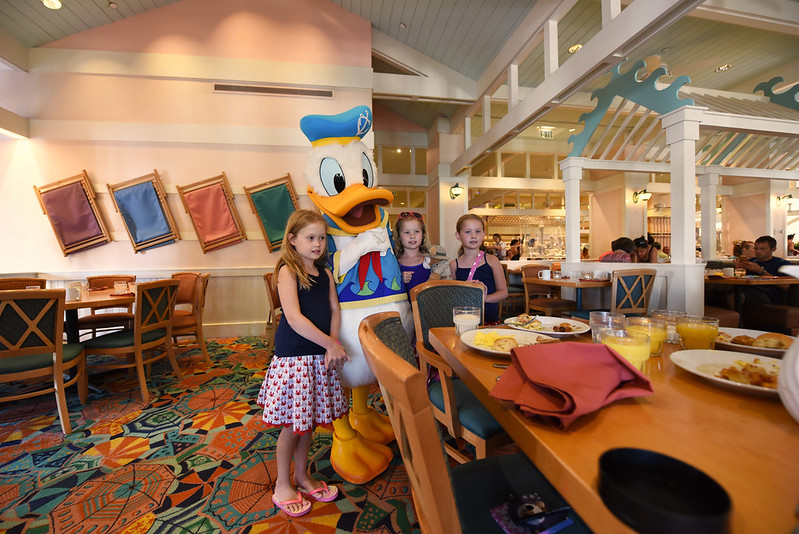 We thoroughly enjoyed our meal here. The food was tasty, the characters friendly and the restaurant was in a convenient location for us. After eating we meandered back to our rooms to change into swimsuits as our main agenda item for the day was POOL TIME. I don't have any pool photos from that morning because I was in the pool myself and I'd left my camera in the room. This was the one day of our vacation, aside from the day we arrived and the day we were leaving, where we didn't visit one of the parks. It was a nice break and we all appreciated the time to relax.
When planning for this vacation, Day 6 was the one day I struggled with where to eat our meals. Sometimes we do plan to just wing it, but I didn't know how winging it for two meals in a row during a non-park day would work out. Especially seeing that we had dined at the quick service poolside kiosk the night before. For lunch, we decided to take a walk over to the Boardwalk and see what they had to offer. We did come across several dining options and picked up some sandwiches from the bakery next to the new ice cream place.
Tasty
Beach Club
The real feel temperature on this day (and all the others) was 106. Give or take a degree or two. Yes, we swam and swam and swam. . .
~ To be continued